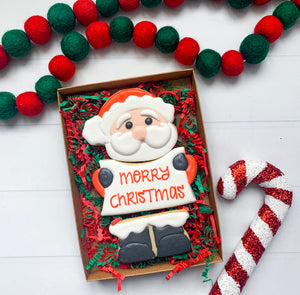 Address for pick up will be sent by email the week of pick up. Location is in Maple at Jane and Major Mackenzie
Three piece cookie set packaged in a box with a Christmas tag. 
Cookies are available for pick up Sunday, December 17th 1pm-2:30pm or Wednesday, December 20th 6:30pm-8:00pm. Please select the pick up date on your order. 
DUE TO LARGE NUMBER OF ORDERS NO CHANGES TO THE PICK UP TIMES PERMITTED 
**packaging and colouring may vary**
All efforts are made to ensure the cookies do not come in contact with any nuts, however we cannot guarantee
All cookies are final sale, no refunds are permitted.